What is Malted Milk Anyways
Malted milk is a powdered gruel made from a mixture of malted barley, wheat flour, and evaporated whole milk.
Malt powder comes in two forms: diastatic and nondiastatic. Diastatic malt contains enzymes that break down starch into sugar; this is the form bakers add to bread dough to help the dough rise and create a certain crust. Nondiastatic malt has no active enzymes and is used primarily for flavor, mostly in beverages. It sometimes contains sugar, coloring agents, and other additives
30+ RECIPES FOR MALTED MILK LOVERS
The unique flavor of malted milk is a reminder of my childhood!  Growing up, there was always a jar of Ovaltine in the cupboard and it was a special treat to enjoy  And to this day, I still love anything and everything made with the distinct taste of malted milk!
So if you too love malted milk, then this collection of 30+ Recipes for Malted Milk Lovers is for you!  So many talented bloggers have come up with some innovative and delicious recipes — all using malted milk as an ingredient!
Use the pin button above to save this entire collection, or click through to the original blog to pin each individual recipe.  Enjoy!
Cakes & Pie
Malted Mousse Cake – A Family Feast
Vanilla Malted Milk Cake – Hungry Rabbit NYC
Chocolate Malt Cake – Doughmesstic
Chocolate Malt Cupcakes – Your Cup of Cake
Malted Chocolate Pudding Pie – Baker by Nature
Malteser Layer Cake – Poires au Chocolat
Cookies, Brownies & Fudge
Almond Malted Brittle Bars – A Family Feast
Malted Milk Ball Krispie Treats – Cookies and Cups
Malt Ball Fudge – Shugary Sweets
Malted Mocha Bars – A Family Feast
Chocolate Malt Brownie Parfaits in A Jar – A Spicy Perspective
Chocolate Malt Pizzelle – King Arthur Flour
Whopper Brownies with Malt Buttercream Frosting – Chef in Training
Malted Milk Ball Bunny Brittle – Your Homebased Mom
No Bake Malted Milk Fudge – Lemon Tree Dwelling
Other
Hot Fudge Malt Dip – Crumbs and Chaos
Nougat with Chocolate Malt – Cupcake Project
Homemade Marshmallows with Malted Caramel Swirl – The Gold Lining Girl
Malted Chocolate Chip Toffee – A Kitchen Addiction
Malted Pretzel Crunch – The Girl Who Ate Everything
Triple Chocolate Malt Bread – Dine and Dish
Malted Chocolate Chip Banana Pancakes – Baker by Nature
Ice Cream, Puddings & Mousses
Chocolate Malted Ice Cream – A Family Feast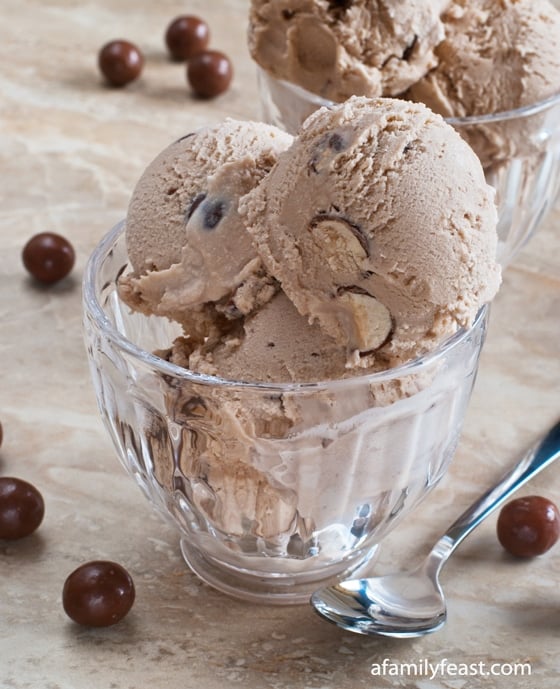 Toasted Marshmallow-Brownie Malt Ice Cream – Recipe Girl
Bourbon Spiked Malt Milk Ice Cream – Pass the Sushi
Vanilla Malt Pudding – Hungry Girl por Vida
Chocolate Malt Bread Pudding – Alida's Kitchen
Chocolate Malted Mousse – A Family Feast
Beverages
Homemade Malted Milk Powder (Chocolate and Plain) – Foodie with Family
Vanilla Malt – Your Homebased Mom
Malted Mocha Iced Coffee – Peanut Butter and Peppers
Guinness Double Chocolate Malted Milkshake – Foodie with Family
S'mores Marshmallow Malt – Lemon Tree Dwelling
Still looking for more?  Check out my Pinterest board!
To comment on this story or anything else you have seen on CROWDEEZE, please head on over to our  FACEBOOK  page or message us on TWITTER